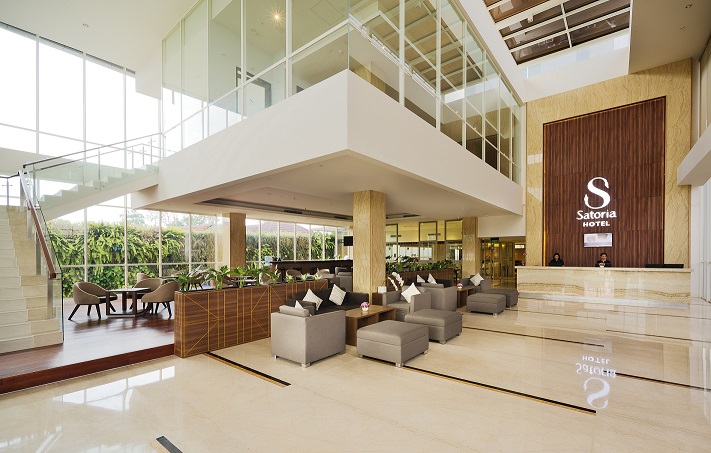 PREMIER INN YOGYAKARTA ADISUCIPTO IS EXCITED TO REBRAND TO 4-STAR SATORIA HOTEL YOGYAKARTA
23 OCTOBER 2017
The Premier Inn Adisucipto rises to new levels as the property rebrands to Satoria Hotel Yogyakarta on 1st October 2017. Accompanying the rebrand, the Satoria Hotel has also been awarded its 4th Star in recognition of its services and facilities.

Located just 5 minutes away from the Yogyakarta Adisucipto International Airport, one can enjoy the exhilaration of watching International flights' take-off and land while enjoying your favourite refreshment from the hotel's roof top "Vue Bar".



Ms Sophy Alim, the hotel owner, says the same staff and dedication to our guests that saw the hotel succeed under the Premier Inn brand will accompany our transition. With the promotion to a four-star brand, it is a natural progression to rebrand the hotel as the flagship for Satoria Hotels' expansion into the Indonesian Hotel market.



The proximity to the airport allows for quick access to the comforts of one's hotel after a long flight and that extra period of relaxation before your departure, while being situated on the main road gives quick access to the cultural diversity of Yogyakarta, including the world-renowned Borobudur and Prambanan Temples.



The hotel has 144 well-appointed rooms (including family rooms) and are designed for the guest who wishes to enjoy the utmost in comfort and functionality at a reasonable price. The hotel boasts complimentary Wi-Fi, Restaurants, International standard Meeting Rooms, Roof Top Bar, and Swimming Pool among its many guest facilities.



SATORIA GROUP is a Global Icon in Manufacturing, Hospitality, Property Development, Entertainment, Trading & Distribution industries with a diverse array of assets in numerous prime cities in Indonesia.
back